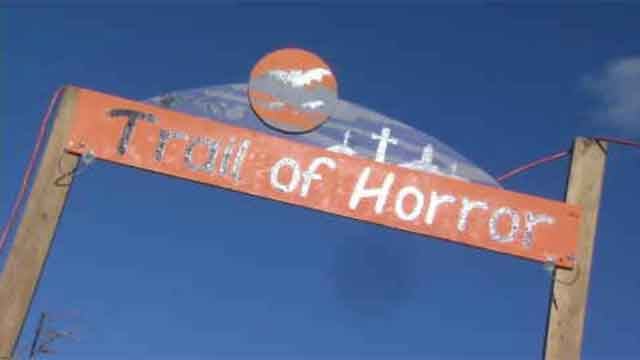 Neighborhood haunted trail raises funds for animal shelter, canned goods (WFSB)
WATERFORD, CT (WFSB) -
A haunted trail in Waterford is a neighborhood project that has grown in helping out neglected animals.
The Trail of Horror on Old Barry Road starts to come alive at night.
There is no fee for visitors, just a donation or canned goods to help out the local food pantry and animal shelter.
In just five years, the trail has gotten much bigger, from just a few rooms inside the Harcut house, to a meandering mayhem of madness throughout the property.
"It's so much fun to bring the donations to town hall and it helps them right before the holidays," said Molly Rossi, who is the organizer of the event.
This year, the hope is to double last year's donation made by a total of 500 guests.
It is a two night event this weekend, starting at 6 p.m.
There are the traditional scary characters, a graveyard and even a fortune teller in the "Swamp Hut."
The trail begins at 2 Old Barry Rd., in the Quaker Hill section of Waterford.
Copyright 2015 WFSB (Meredith Corporation). All rights reserved.