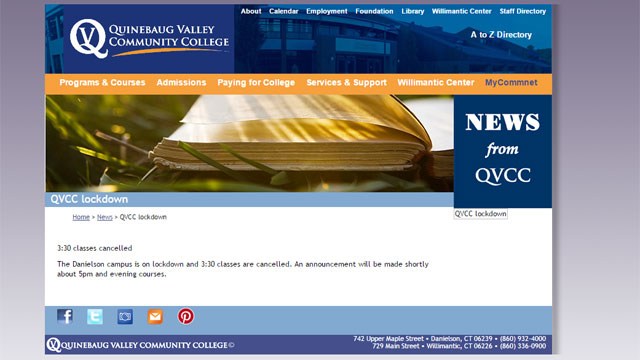 DANIELSON, CT (WFSB) -
The campus of Quinebaug Valley Community College in Danielson was placed into lockdown on Monday afternoon.
Connecticut State Police told Eyewitness News that it was originally reported that an unknown person, who was not supposed to be on campus, was given access to the school by a student.
State police say that within a short period of time of that happening a fire alarm was pulled the school told police that this unauthorized person could not be located. As a result state police locked the campus down.
However, they believe the suspect may have been another student from another school. The student was not found by police.
It does not appear that the fire alarm and alleged unauthorized student are connected.
The lockdown caused 3:30 p.m. classes to be canceled. Around 4 p.m., the college decided to resume classes because the "campus was clear." Classes are expected to resume at 5 p.m.
Police stressed there was no criminal element that happened on the QVCC campus.
Nonetheless, QVCC students said it was very scary situation for students here on campus.
"A little uneasy because I wasn't sure what was happening, but fine," QVCC student Robbie John said.
Copyright 2015 WFSB (Meredith Corporation). All rights reserved.