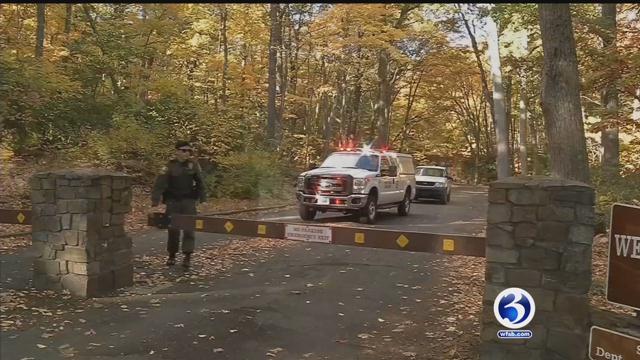 Crews worked early Monday morning to recover the hiker's body. (WFSB photo)
Authorities have identified the 26-year-old hiker, who died after he fell hundreds of feet at a park in New Haven this weekend.
Robert Anastasio lost his balance while at West Rock State Park on Sunday and plummeted hundreds of feet off a cliff, according to the Connecticut's Department of Energy and Environmental Protection.
New Haven firefighters located the body of Anastasio around 5:30 p.m. after multiple 911 calls.
The death of Anastasio is believed to be "nothing more than an accident," according to Kyle Overturf with the EnCon police.

The area was too dangerous that the body of Anastasio had to be retrieved on Monday morning during daylight hours.
West Rock State Park reopened on Monday afternoon after the recovery.
New Haven Fire Chief Allyn Wright said the department provided two counseling sessions for the firefighters who witnessed the recovery of the body.
Copyright 2015 WFSB (Meredith Corporation). All rights reserved.