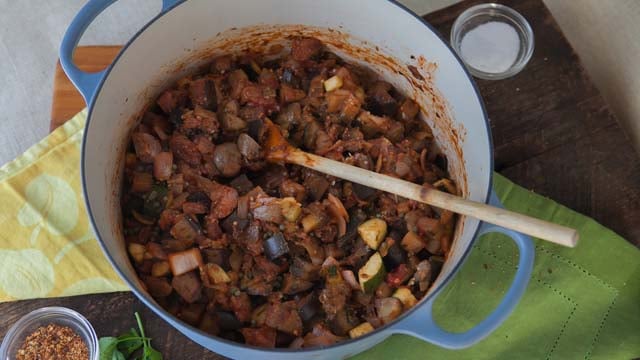 Eggplant and sausage caponata.
HARTFORD, CT (WFSB) -
Caponata is a Sicilian dish that was always served as an appetizer. You can dice it very small and use a dip with endive leaves or prepare chunky and it is a great accompaniment to many dishes such as grilled swordfish or over roasted chicken.
Ingredients
1/2 cup olive oil, divided
1 pound sausage (pork or chicken), casings removed
1 large eggplants chopped (4 cups)
1 large zucchini, chopped (1 1/4 cup)
1 large yellow onion, chopped
3 cloves garlic, minced
3 teaspoons sea salt
1 teaspoon freshly ground pepper
1 (15 ounce) can crushed tomatoes
1 (7 ounce) can tomato paste
1/4 cup red wine vinegar
1/4 cup capers, drained
1 cup packed parley leaves
1 teaspoon crushed red pepper flakes
Directions
Heat a large Dutch oven over medium-high heat. Add about 2 tablespoons of olive oil. Add in sausage and cook for about 7 minutes breaking apart by using a wooden spoon.
Add in eggplant, zucchini, onion and garlic. Drizzle 2-3 tablespoons of olive oil then season with sea salt and pepper. Stir mixture gently with a wooden spoon.
Reduce temperature to medium and cook for another 7 minutes then add in crushed tomatoes, tomato paste and red wine vinegar. Reduce heat to medium-low and stir occasionally while cooking for about 20 minutes.
Add in capers, parsley and crushed red pepper flakes. Stir into to the mixture. Let cook for another 5 minutes then taste an eggplant as it should be golden brown and soft.
Remove from heat and enjoy!
For more recipes, check out the Paleo Italian Cooking cookbook here.
Copyright 2015 WFSB (Meredith Corporation). All rights reserved.