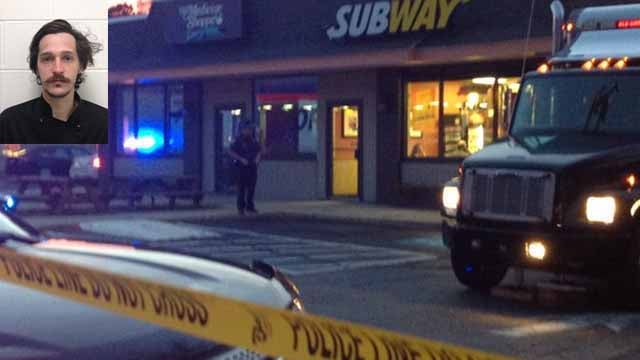 Thomas Einsmann is accused of trying to rob a Subway (WFSB/Old Saybrook police)
OLD SAYBROOK, CT (WFSB) -
An Old Saybrook man is facing charges after police said he tried to rob a Subway restaurant on Thursday.
Police responded to the Subway on Boston Post Road and quickly surrounded the area.
The suspect, identified as 25-year-old Thomas Einsmann, was located near the Amtrak train station.
Police said Einsmann tried to rob the Subway but when an employee didn't immediately cooperate, he fled.
A second employee attempted to follow the suspect, but couldn't catch up so the employee alerted an Old Saybrook police officer.
Einsmann was arrested and charged with first-degree criminal attempted robbery, fifth-degree criminal attempted larceny, second-degree breach of peace, carrying a dangerous weapon, and possession of drug paraphernalia.
He was held on a $100,000 bond and is expected to appear in court on Friday.
No injuries were reported in the incident.
Copyright 2015 WFSB (Meredith Corporation). All rights reserved.