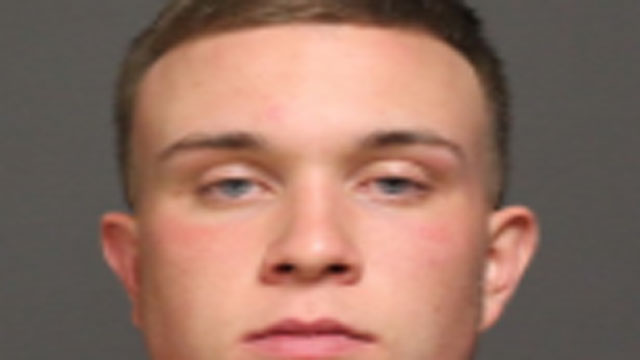 Frank Anthony Sapienza was charged with fourth-degree sexual assault. (Fairfield Police)
FAIRFIELD, CT (WFSB) -
A 19-year-old man dressed in a Halloween costume was arrested Saturday night after he groped and kissed a female after she told him to stop multiple times on the Sacred Heart University campus.
Frank Anthony Sapienza was charged with fourth-degree sexual assault.
The unidentified victim told Sacred Heart University Public Safety that she was sexually assaulted by Sapienza, who was in a police officer for Halloween.
After locating Sapienza, he admitted to not stopping when the victim told him to do so. Multiple eyewitnesses also corroborated the victim's account of the incident.
It is unclear if the victim is a Sacred Heart student.
Sapienza is being held on a 1,000 bond, but was released on Sunday morning after posting bond. He is expected to arraigned at Bridgeport Superior Court on Nov. 9.
Copyright 2015 WFSB (Meredith Corporation). All rights reserved.