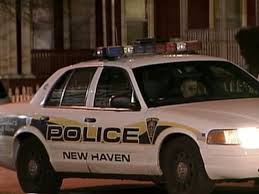 NEW HAVEN, CT (WFSB) -
New Haven police are searching for a man who reportedly tried to lure a teenager into his car on Saturday.
At about 11:40 a.m., a 16-year-old female reported that she was walking down Chapel Street between Yale Avenue and Ella T. Grasso Boulevard when a man pulled up to her.
He was in a newer, grey, mid-sized van and the teen described the driver as a black man in his late thirties, with a medium complexion and short, cropped hair. He was wearing a plaid shirt with the color purple in it.
The teen told police that the driver, who was alone, said hello to her. She ignored him and the suspect followed her, told her his name was "Charles" and to get into the van.
According to police, the teen kept walking, but she said that the suspect pulled up in front of her and told her to get into the van so he could talk to her.
The teen refused and the proceeded to call her parents and the police. The suspect then drove off.
Police have said that other incidents like this have not been reported locally.
This incident remains under investigation. Anyone who may have seen this man or the vehicle in the area is asked to police at 203-946-6316.
Copyright 2015 WFSB (Meredith Corporation). All rights reserved.