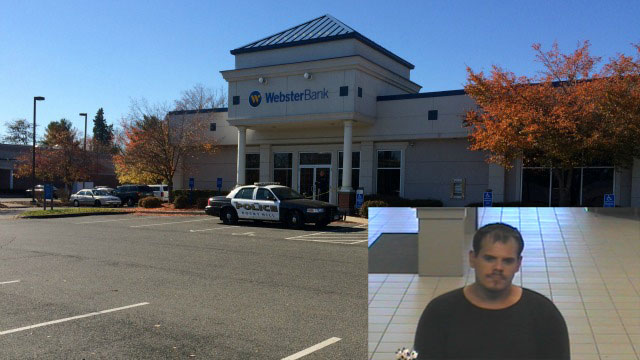 A bank robbery at the Webster Bank in Rocky Hill has led to a lockdown at a nearby elementary school. (WFSB)
ROCKY HILL, CT (WFSB) -
An elementary school in Rocky Hill was placed into a "soft lockdown" on Wednesday morning.
The West Hill Elementary School on Cronin Drive was placed on lockdown because of a nearby robbery, Principal Scott J. Nozik tweeted.
Nozik said it is business as usual, but no one will be let in and out of the building. The school resource officer is on scene.
The bank robbery was reported at the Webster Bank, which is located at 377 Cromwell Ave. in Rocky Hill, around 10:30 a.m.
An unidentified man entered the bank and "passed a bank savings slip with written instructions demanding money," Rocky Hill Police Lt. Brian Klett said. The man never implied or showed a weapon.
After fleeing the bank, police searched with the area with a K9, but were unable to locate the suspect. There is no word on how much the suspect took from the bank.
Police released surveillance photos of the suspect. He is being described as 5'10" in his 30s with dark brown hair and brown eyes. In photos, he is seen wearing dark blue jeans and a long sleeved black jacket with a gray interior.
Anyone with any information about the suspect or the incident is asked to call the Rocky Hill Police Department at 860-258-7640.
Copyright 2015 WFSB (Meredith Corporation). All rights reserved.