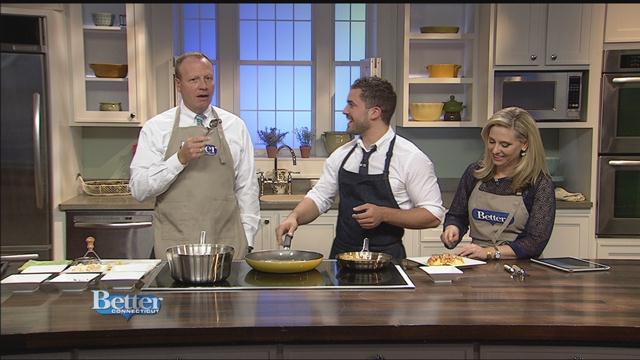 Joining us today on Pasta Wednesday is an old friend of ours, Ryan Durant of Assaggio Ristorante in Branford.
Assaggio is a fine dining Northern Italian Restaurant open since 2002 located on the Branford green.
If you want to try some of Ryan's delicious food, head to his restaurant, click here for Assagio's website.
And today Ryan is making Kara's favorite, lobster raviolis.
Lobster Raviolis:
Lobster meat
1 stick of butter
½ of a finely chopped shallot
aprox 10 chopped basil leaves
1 cup of sherry wine
Method:
Sautee and reduce ingredients until wine thickens.
Bring down to room temperature.
In a mixing bowl add cooled mixture with 2 cups fresh ricotta cheese and 1 steamed chopped lobster.
Insert into ravioli and cook.