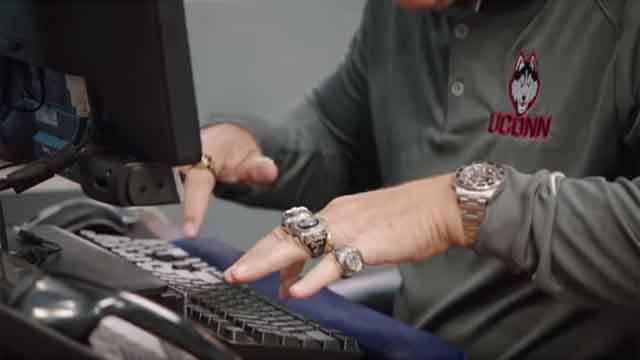 UConn video showcases Auriemma's 10 wins, and rings (UConn)
STORRS, CT (WFSB) -
A video has become very popular on YouTube showcasing the championships the coach of the UConn Women's Basketball team has been a part of.
The video titled "Geno Auriemma: Lord of the Rings," is meant to be comical and shows women's Coach Geno Auriemma talking about not spending too much time thinking about his 10 wins.
While he says "the past is in the past," Auriemma is shown in the video wearing a championship ring on each of his 10 fingers.
In the video he struggles with daily tasks because of the rings, like getting his phone out of his pocket, or giving Jonathan the Husky a high five.
At the end of the video, there is an advertisement that tickets are on sale for the basketball games.
Mobile users can watch the full video here.
Copyright 2015 WFSB (Meredith Corporation). All rights reserved.