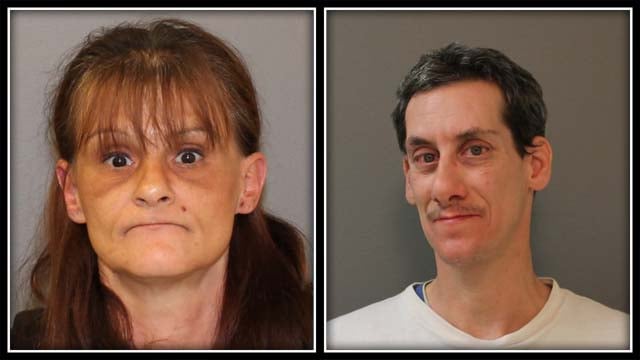 Pair accused of burglarizing vehicle in Shelton (Shelton police)
SHELTON, CT (WFSB) -
Shelton police have arrested two people in connection with a larceny from a vehicle.
Police said the vehicle owner caught two suspects in the act of burglarizing her vehicle on Wednesday night.
Officers responded to the area of White and Bridge streets and found the vehicle owner and two bystanders had detained 45-year-old Kari Franco and 49-year-old Robert DeRosa, both of Shelton.
Police said Franco had cash in her hand when the car owner found the suspects, and when the vehicle owner demanded her money back, Franco gave her $2 and ran away.
The owner of the car and two others ran after Franco and DeRosa. During the incident, police said Franco punched one of the bystanders in the lip in an attempt to escape.
Police arrested both Franco and DeRosa. Franco was charged with third-degree robbery, third-degree burglary and sixth-degree larceny. She was held on a $500 bond.
DeRosa was charged with conspiracy to commit third-degree robbery, conspiracy to commit third-degree burglary, and conspiracy to commit sixth-degree larceny.
He was held on a $1,000 bond.
Both appeared in Derby Superior Court on Thursday.
Copyright 2015 WFSB (Meredith Corporation). All rights reserved.