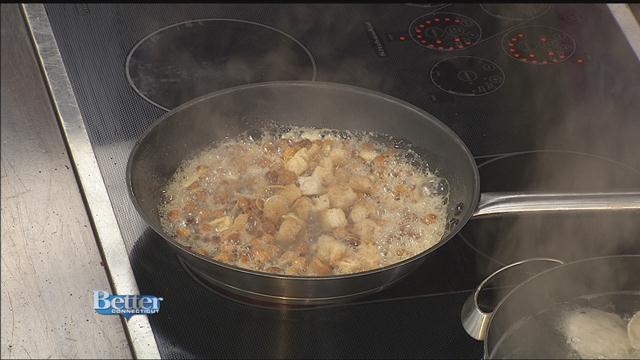 It's Wednesday and that means it is Pasta Wednesday! With us today is Carol Peck, she is the owner of Good News Cafe in Woodbury.
We are getting our last taste of fall with the is amazing pumpkin ravioli recipe. It's so good!
If you want to check out more from Carol and the Good News Cafe, check out their website.
Pumpkin Ravioli:
For the Ravioli you can make your own or buy good quality prepared ravioli.
Cook in salted boiling water. Make sauce while the ravioli's are cooking.

Brown Butter:
1/4 lb. / 1 stick unsalted butter
1/2 c. golden raisins
3 cloves garlic finely sliced
1 lemon zest & juice
2Tb. capers
1/2 c. garlic croutons
10 sprigs flat parsley, picked

For Sauce:
In a skillet over med. heat melt butter &
cook stirring occasionally until starts to brown.
Stir in raisins & cook approximately 2 min.s
Stir in garlic & cook 1 min.
Add lemon zest & juice cook 1 min.
Add capers cook 1 min.
Add crumbs cook 1 min.
Finally add parsley just to wilt.
Spoon sauce over cooked ravioli.