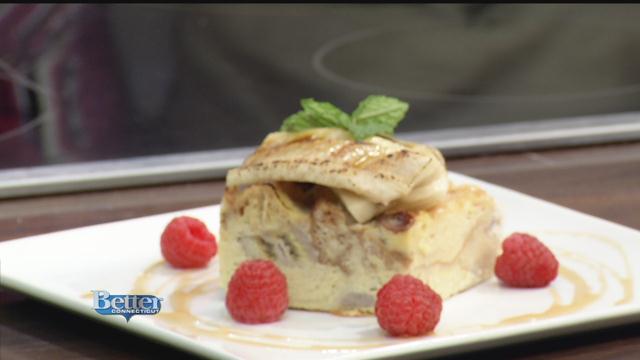 It's Sweet Treat Thursday and today's chefs come from The Concorde at the Sheraton Hartford Hotel at Bradley International Airport.
The hotel is hosting its annual Great Gatsby Party on New Year's Eve. Contact the hotel for more information.
Banana Foster Bread Pudding:
Ingredients:
6 Danish
6 Croissants
4 cup Liquid Eggs
1 cup Heavy Cream
1 tsp Vanilla Extract
1 cup Brown Sugar
2 ea Banana
Method:
1.Cut all the pastries in bite size pieces and place in casserole pan.
2.Slice bananas and toss in with the cut pastries.
3.In a mixing bowl combine liquid eggs, heavy cream, vanilla, and brown sugar.
4.Pour mixture over pan with cut pastries.
5.Push bread into the mixture so all is coated (add more cream and eggs, as needed).
6.Cover with foil and bake at 325 for 45 min.
7.Remove foil and bake for 10 min.
8.Garnish with sliced caramelized bananas and whip cream. Drizzle caramel maple sauce over top (recipe below).
Caramel Maple Sauce:
½ cup Caramel
¼ cup Maple Syrup
Method:
1.In mixing bowl combine ingredients.