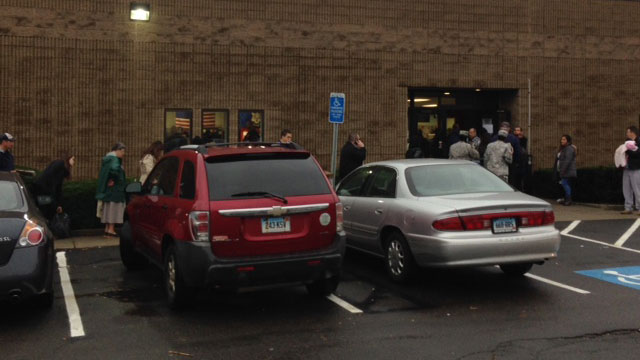 People stood in rain to use services at DMV office in Old Saybrook. (WFSB)
OLD SAYBROOK, CT (WFSB) -
There were long lines outside the Department of Motor Vehicles office in Old Saybrook, which frustrated anxious customers, who stood in the rain on Thursday.
Connecticut residents said the DMV office was maxed to capacity because it was only open Tuesday this week. DMV officials said the previous new computer problems have subsided and it was busy.
Some customers told Eyewitness News they found the same problem at the DMV office in Hamden and thought they would drive to another office to save themselves time.
"It was out the door in Hamden. People waiting in the rain," Eric Preneta, of Branford, said. "Here, I am in Old Saybrook usually it's not too busy here we are."
"Took over an hour just to get inside," Chris Cote, of Westbrook, said. "My mother got here at 9 this morning then waited two and a half, three hours to get inside."
A spokesperson for the DMV said employees tried to reconfigure the line inside to get many out of the rain. DMV officials said the lines occurred during employee lunch breaks.
Copyright 2015 WFSB (Meredith Corporation). All rights reserved.