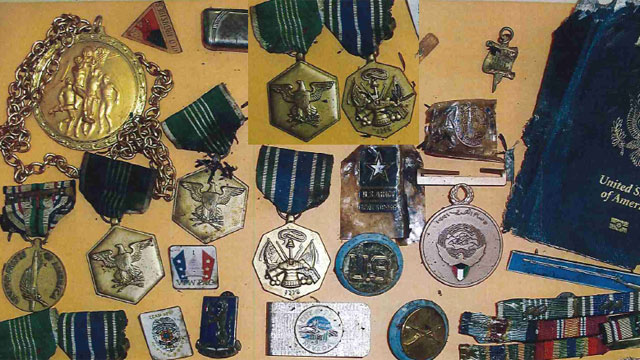 State police released this photo of the recovered medals. (CT State Police)
STAFFORD, CT (WFSB) -
The Connecticut State Police recovered dozens of stolen United States Military medals after a burglary in Stafford last year.
The incident started when someone broke into a home on Bradway Pond Road in March 2014. During the burglary, police said the suspect took many items including money, government IDs and military medals.
The medals were for the veteran's service in Iraq.
The state police investigated the case, but were unable to recover the items.
On Nov. 4, 2015, a Good Samaritan noticed something suspicious in the woods of Stafford and reported it to police.
A retired state police Sgt. James Kodzis went into the woods with a metal detector in hopes of locating the items.
During his search, Kodzis recovered 33 additional items to include the victim's U.S. Army military medals and award ribbons.
Those items were returned to the veteran who lost them.
The burglary remains under investigation by state police.
Copyright 2015 WFSB (Meredith Corporation). All rights reserved.