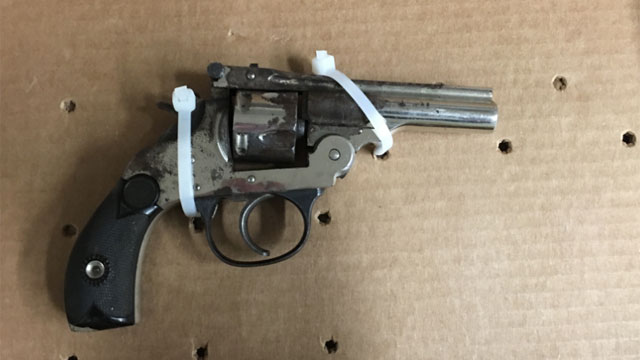 One of the weapons seized by police during a motor vehicle stop on Albany Avenue. (Hartford Police Department)
HARTFORD, CT (WFSB) -
A Hartford man is charged with possession of narcotics and weapons after being detained at a motor vehicle stop on Thursday afternoon.
Joseph Steele, 29, was stopped by Hartford Shooting Task Force investigators at 690 Albany Ave. around 12:40 p.m. During the stop, detectives said they sensed a strong odor of marijuana upon approaching the vehicle.
Police asked Steele for any identification or any paper work pertaining to the vehicle. Steele told police that he did not have any paperwork.
According to police, the odor prompted them to check the center console where they found narcotics, two firearms, with one hidden behind the pull out AM/FM radio.
Marijuana, heroin, crack cocaine, along with prescription pills were located in the vehicle.
Steele is currently facing 18 arrests charges including criminal possession of a firearm, possession of narcotics with intent to sell and operating a motor vehicle under a suspended license.
Copyright 2015 WFSB (Meredith Corporation). All rights reserved.