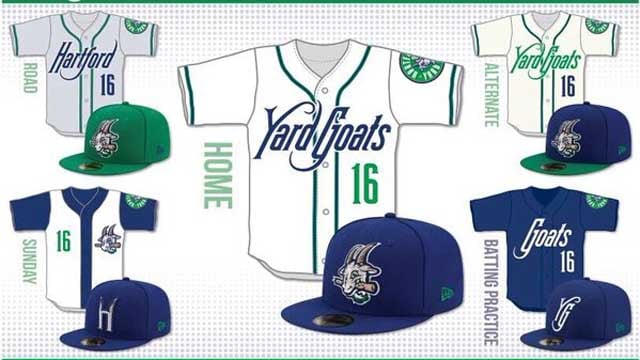 On Tuesday, the Hartford Yard Goats Baseball Club unveiled its uniforms. (Yard Goats)
HARTFORD, CT (WFSB) -
On Tuesday, the Hartford Yard Goats Baseball Club unveiled its uniforms.
The event took place in Hartford, where the uniforms were showcased for the first time.
Five different Yard Goats uniforms were revealed, which were the home jersey, road jersey, Saturday jersey, Sunday jersey and "battling practice" jersey.
The home uniforms are a traditional baseball white uniform with royal blue and "Kelly green" colors.
The road uniforms are grey; Saturday uniforms are cream-colored, and Sunday's uniforms are white and blue.
The battling practice jerseys are solid royal blue.
Copyright 2015 WFSB (Meredith Corporation). All rights reserved.