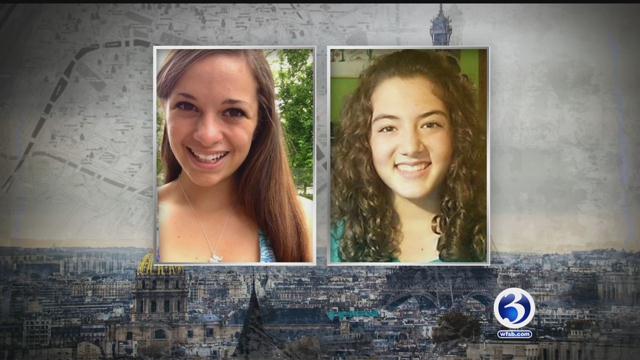 Jill Sims and Rachel Wilson.
HAMDEN, CT (WFSB) -
Two Connecticut college students who were studying abroad gave Eyewitness News an inside look into the terror that they experienced during the Paris attacks on Friday.
Rachel Wilson and Jill Sims said they are both Quinnipiac University students who had been studying in Spain for the semester.
Their journey took them to Paris for the weekend as part of the program.
"My roommate and I were only 500 feet from one of the attacks when it happened, but we had no idea we were that close until we looked it up when we got back to the hotel," Sims said. "I think the shock of it all kind of overcame any other emotion I was feeling at the time. It really didn't hit me how scary and serious it all was until came back here."
Neither student was hurt, but both said it's something they will never forget.
"My heart dropped because, you know, it's like your worst nightmare coming true, being abroad and having something like this happen," Wilson said. "Like, it's something that you worry about up until you finally get to the country and then to actually have it happen, [it] was horrifying and to be in the city was even more horrifying."
Both Sims and Wilson are now back in Spain to complete their studies.
One hundred twenty nine people were killed in coordinated terrorist attacks across the city.
Copyright 2015 WFSB (Meredith Corporation). All rights reserved.