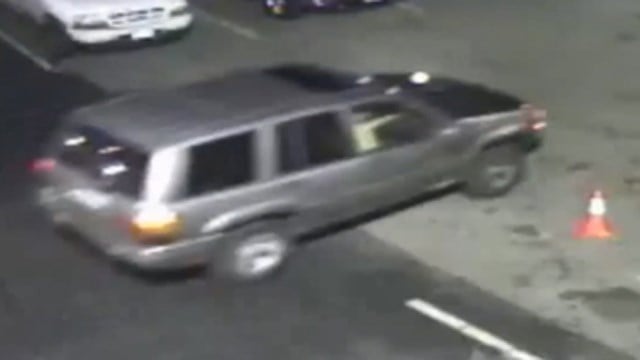 (Wateford police photo)
WATERFORD, CT (WFSB) -
A driver is being sought by Waterford police after they said a vehicle was involved in a crash, fled and nearly struck car dealership employees.
Police said the crash happened on Broad Street near Jefferson Avenue last Friday just before 5:30 p.m.
Afterwards, the driver continued southbound on Broad Street into New London where the man traveled into the parking lot of the Whaling City dealership.
That's where the driver nearly struck multiple employees, police said.
The vehicle exited the lot and traveled northbound onto Morgan Street.
Police said an eyewitness described the vehicle as an older model Jeep Grand Cherokee with Connecticut plates.
They said the vehicle was heavily damaged from the initial crash. It was reportedly missing its front grill and a driver's side headlight.
The driver was described as a heavy-set man with short dark hair. He was wearing a flannel shirt.
A passenger in the vehicle was described as a man with short dark hair and appeared to be in his 20s.
Anyone with information is asked to contact the Waterford Police Department at 860-442-9451.
Copyright 2015 WFSB (Meredith Corporation). All rights reserved.