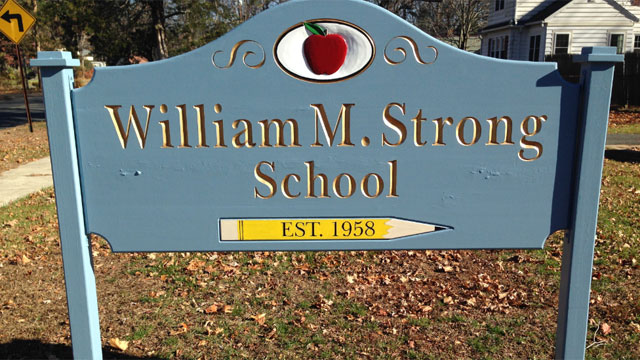 Strong School was without power for a brief period of time on Friday. (WFSB)
SOUTHINGTON, CT (WFSB) -
Classes continued as normal after a motor vehicle shut down power to an elementary school in the Plantsville section of Southington on Friday morning.
A truck crashed into a telephone pole and power lines, which caused a power outage at Strong Elementary School, which is located on Marion Avenue, around 10:45 a.m., according to Superintendent Tim Connellan.
Connellan said the Strong Elementary School could have been without power the remainder of the day, however power was restored around noon.
Students are expected to be dismissed at normal time, Connellan said.
The administration was contact with officials at Strong Elementary School by radio and cell phone until power was restored. Classrooms communicated with the main office and nurse via radio or cell phone, Connellan said.
There were more than 600 Eversource customers without power in Southington, however, as of 12:15 p.m., there were four outages. To get an update on outages in your area, click here.
Parents are being asked to call the central office at 860-628-3204.
Copyright 2015 WFSB (Meredith Corporation). All rights reserved.