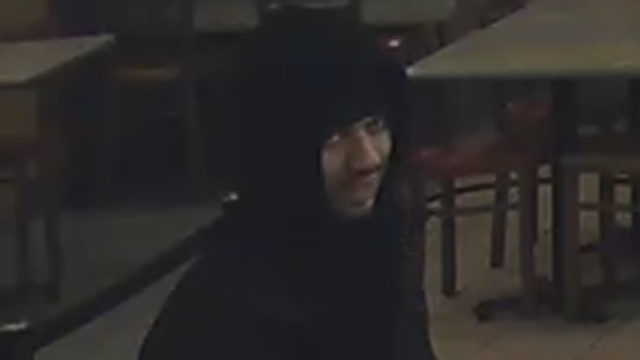 (Glastonbury police photo)
GLASTONBURY, CT (WFSB) -
Police in Glastonbury are seeking the public's help in identifying a suspect in an armed robbery.
They said a man entered the Subway restaurant in the Griswold Mall on Main Street Thursday and robbed the business with a gun.
It happened around 9:50 p.m.
Police said the lone employee described the suspect as a man with a mustache and possible goatee and chin strap beard. He wore a black or dark-colored hoodie, blue jeans which looked to be cuffed at the ankle and dark-colored sneakers.
The employee noticed the suspect walking around the mall for an hour prior to the robbery.
In the restaurant, police said he ordered four cookies prior to the robbery. As the clerk rang him up at the register, he pulled out the black handgun, grabbed the cash and walked out of the store.
Police said the same suspect is believed to have committed robberies in the Hartford area.
Anyone with information is asked to contact the Glastonbury Police Department at 860-633-8301.
Copyright 2015 WFSB (Meredith Corporation). All rights reserved.