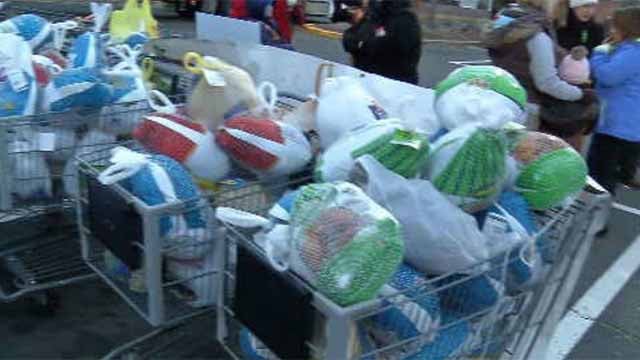 Foodshare is still in need of turkeys (WFSB)
BLOOMFIELD, CT (WFSB) -
Foodshare continues to collect turkeys for the needy, but on Sunday the organization still hadn't reached its goal.
As of 12:30 p.m. on Sunday, Foodshare was still short 2,675 turkeys.
The organization said it needs the turkeys for its afternoon distribution on Monday, to local pantries and kitchens.
"Each turkey represents a real family waiting to find out if they can join in the Thanksgiving celebration," the organization said in a press release.
Anyone looking to make a donation can do so at all Highland Park Market or Foodshare in Bloomfield, 450 Woodland Ave., before noon on Monday.
This year, Foodshare said it was asked to help 16,188 Greater Hartford residents join in on the Thanksgiving holiday. The requests came from food pantries and community kitchens
Foodshare said that while it acknowledges that the number is high, it's encouraged by the downward trend in recent years and is looking to supporters to make sure the requests get filled.
To make a donation, people can also call 860-856-HELP. Potential donors can also visit Foodshare's website here for more information.
Copyright 2015 WFSB (Meredith Corporation). All rights reserved.