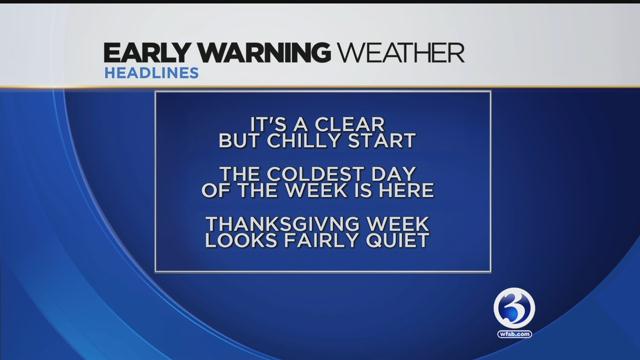 ROCKY HILL, CT (WFSB) -
Heaters will be put to good use during your Monday morning commute as a chilly start is expected for the start of the holiday week.
Connecticut residents should expect temperatures in the 30s throughout the state.
Monday is expected to be one of the coldest days of the week, possibly one of the coldest of the season, WFSB Meteorologist Scot Haney said.
"You are going to have to really bundle up," Haney said.
Temperatures are expected to be in the low 40s and upper 30s for towns in higher elevation. The normal high for this time of year is 50 degrees, according to Haney.
"It's going to be one absolutely gorgeous day," Haney said.
The ground will remain frozen for most of Monday.
More cold weather is expected for Tuesday.
However, Haney said the week is expected to be fairly quiet weather-wise.
To read the full technical discussion, click here.
Copyright 2015 WFSB (Meredith Corporation). All rights reserved.