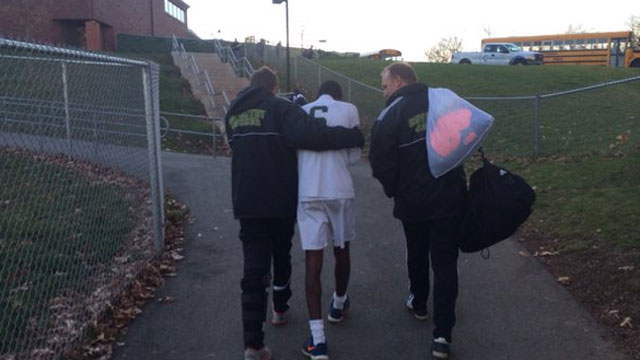 Noah Zajac supports Kwabena Obiekwu after the Coventry Boys' soccer team lost 3-2 to Somers on Saturday. (WFSB)
COVENTRY, CT (WFSB) -
After losing a state championship in soccer, teammates united to comfort one of their own.
The Coventry Boys' soccer team lost 3-2 to Somers in the Class S state championship game in Meriden on Saturday.
Late in the second half, Coventry was leading 2-1 and was close to winning a state title. Kwabena Obiekwu shanked an attempted clear out of the defensive zone and it led immediately to the tying goal from Somers.
Obiekwu was devastated after the play and pulled his jersey over his face to hide the tears. Somers would win in overtime 3-2.
However, even in defeat, his teammates showed overwhelming support for their teammate.
As Obiekwu walked to the waiting bus, Noah Zajac consoled his teammate and showed unwavering support.
Zajac was unable to play on Saturday. He had been sidelined with a leg brace after injuring his ACL earlier in the season.
In his final game as a senior, Zajac put his emotions aside to support his teammate.
And WFSB anchor John Holt showed his support for the Coventry players.
Copyright 2015 WFSB (Meredith Corporation). All rights reserved.