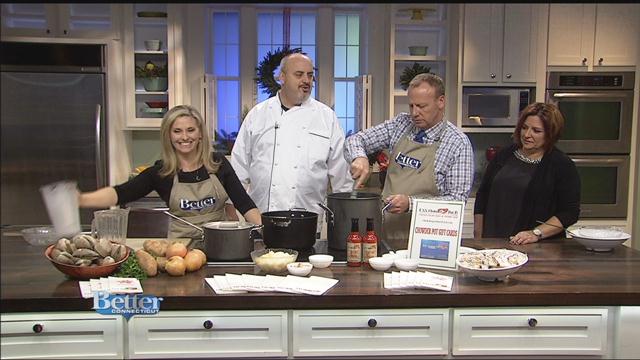 Here is the recipe for New England Clam Chowder from the Chowder Pot:
Ingredients
½ pound butter
1½ cups flour
15-20 chowder clams
2 quarts clam juice
2 oz. salt pork or bacon (optional) - small dice
1 large white onions - medium dice
½ gallon milk
1 ea. bay leaves
1# all purpose potato - medium dice
black pepper
salt
Directions
Wash clams thoroughly with cold water
Shuck clams over a pan to reserve all liquid, and chop meat into large pieces
In heavy pot over medium heat cook diced salt pork until brown and crispy, careful not to burn
Add butter and diced onion and cook until onions start to caramelize
Lower heat and add flour, cook for another 15-20 minutes, stirring frequently
In separate pot add chopped clams, reserved liquid and clam juice, bring to boil over high heat
Turn down heat to a simmer and reduce liquid by ½
After clams and juice have been reduced by half add to pot with the cooked salt pork, butter, flour and onions. Add bay leaves and milk as well. Turn heat up to high.
Stir together liquids with wire whisk and continue to do so frequently until it comes to a boil.
When it reaches a boil lower the heat and simmer for 10 minutes, continuing to stir frequently
Add fresh diced potatoes and continue to simmer until potatoes are tender.
Season with salt and pepper to taste.
Makes approx. 1 gallon of chowder
For more information on Chowder Pot, click here.
Copyright 2015 WFSB (Meredith Corporation). All rights reserved.