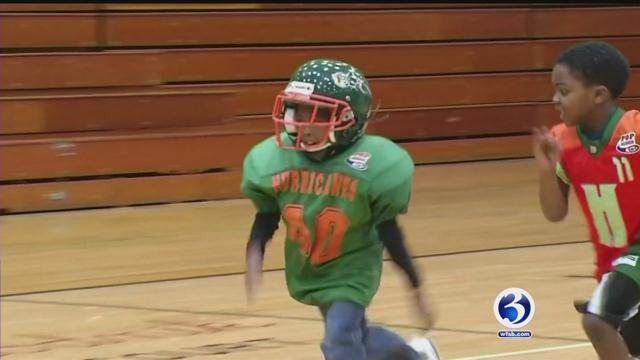 Hartford Hurricanes earned a trip to the Pop Warner Super Bowl Tournament. (WFSB)
The pee wees from the Hartford Hurricanes program won the New England Division 1 regional championship over East Lynn Massachusetts 27 last week. The win earned them a trip to the Pop Warner Super Bowl Tournament.

The team now prepares for at least two games in Orlando next week starting with an opening round game this Sunday.
"I think this could be good because this is a onetime opportunity," said Tyshawn Jackson, who is the Hurricanes RB/CB. "We don't know that we will ever be able to go back. 12:29:02)
Nathaniel Torres, who is the Hurricanes OL/DL, said they want to "win a national championship."
"Last time, they went down there, [in 2012] they fell short," Torres said. "Now we are going to finish the job for them."
Everyone is looking forward to the games, but those good times at Disney World will have to wait until the fellas take care of business
As they make new memories, the players will remember a coach who was an integral part of their success. Kamron Redding-Hall, a devoted volunteer, died in a motorcycle accident in August.

On Monday, the hurricanes found their opponent for their first game is the Virginia Beach Mustangs. Their first game is on Sunday at 11 a.m. The team is guaranteed two games.
If you'd like to help defray some of the costs, you can donate by clicking here.
Copyright 2015 WFSB (Meredith Corporation). All rights reserved.