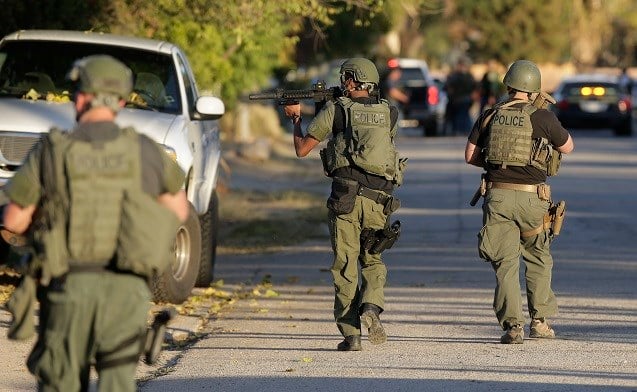 While investigators are trying to piece together the deadly mass shooting in San Bernardino, Ca., people are disappointed to see the number of mass shootings growing. (AP Images)
HARTFORD, CT (WFSB) -
California may be thousands of miles away, but the deadly shooting is already having ripple effects in Connecticut.
On Wednesday, Gov. Dannel Malloy ordered Connecticut State Police to guard at various Department of Developmental Services offices as a precaution.
While investigators are trying to piece together the deadly mass shooting in San Bernardino, Ca., people are disappointed to see the number of mass shootings growing.
"It seems like it happens every week," said Steve Sheron of Wolcott. "Unfortunately I expect it but it's totally tragic. It shouldn't happen."
Senator Chris Murphy was among several leaders who expressed their opinions after the shooting. Murphy tweeted "Your 'thoughts' should be about steps to take to stop this carnage. Your 'prayers' should be for forgiveness if you do nothing - again."
In part in a statement, Malloy said "In light of today's events, we will have enhanced State Police patrols at DDS facilities out of an abundance of caution. Our hearts are with this community tonight."
"We'll be there ready to respond based on the training we have been provided with over the years," said Connecticut State Police Lt. Robert Palmer.
State police couldn't elaborate on how many troopers would be stationed at the facilities.
Copyright 2015 WFSB (Meredith Corporation). All rights reserved.