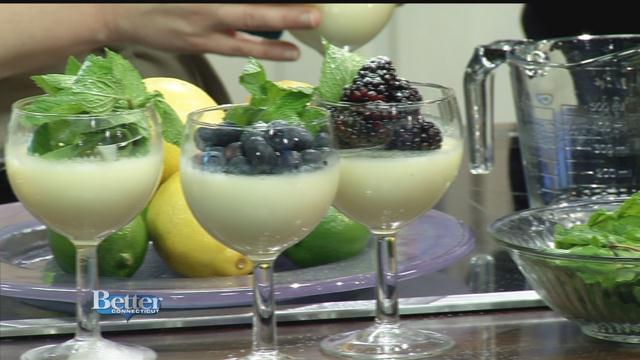 James O'Shea is here from the West Street Grill in Litchfield. Go check them out, you won't be disappointed.
Lemon Lime Posset with Berries:
4 cups-heavy cream
1 1/3 cups superfine sugar
Juice of 3 lemons and 2 limes (Key limes are good too) OR just the juice of 4 lemons
Powdered sugar
Mint leaves for garnish
2 pints of raspberries
Method:
Combine heavy cream and sugar in a stainless steel pan. Bring to a boil.
Cook 3 minutes, stirring constantly.
Remove the pan from the heat.
Thoroughly mix in lemon and lime juice. Cook for 5 minutes.
Pour into 8 one cup sized glasses and refrigerate until set; about 3 hours.
Top with raspberries and dust with a little powdered sugar. Garnish with fresh mint. Serve with homemade pound cake or shortbread cookies.