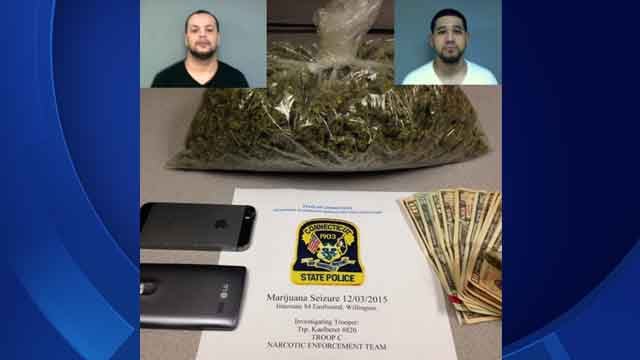 Two face charges after pound of marijuana found in vehicle (Connecticut State Police)
WILLINGTON, CT (WFSB) -
Two Massachusetts men are facing charges after police found a pound of marijuana inside their vehicle during a traffic stop.
The vehicle was stopped on I-84 in Willington on Thursday afternoon, police said, for allegedly speeding and failure to use a traffic signal.
The trooper smelled marijuana coming from the car and after searching, located the drugs.
Police arrested 28-year-old Manuel Torres, and 29-year-old Michael Rodriguez, both of Worcester, Mass.
Both men were charged with possession of a controlled substance and possession of a controlled substance with intent to sell.
Copyright 2015 WFSB (Meredith Corporation). All rights reserved.