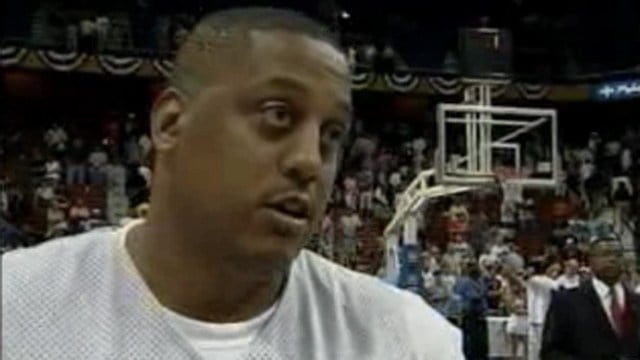 Tate George. (WFSB file photo)
TRENTON, N.J. (AP) -
A former NBA player who starred at the University of Connecticut is facing sentencing in New Jersey in a federal fraud case.
Tate George was convicted two years ago on four counts of wire fraud after a jury in Trenton found him guilty of running a real estate Ponzi scheme.
Some of the former professional athletes and celebrities allegedly victimized in the scheme testified at George's trial. One of them, former NBA player Brevin Knight, allegedly lost $300,000.
George played for the NBA's New Jersey Nets and Milwaukee Bucks. He's best remembered for a buzzer-beating shot for UConn in a 1990 NCAA tournament game against Clemson.
Tate's sentencing begins Wednesday and is expected to continue on Thursday.
Copyright 2015 The Associated Press. All rights reserved. This material may not be published, broadcast, rewritten or redistributed.