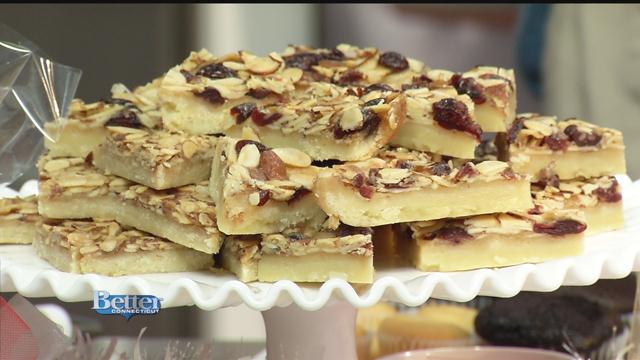 Our favorite way to get our sweet treat fix is from Sweet Maria's! They are located at 159 Manor Avenue, Waterbury. Trust us you have to go, everything is delicious.
These buttery bars are topped with sliced almonds and dried cranberries. They are an easy way to bake a batch of festive holiday cookies.
Cranberry Almond Triangles:
Crust:
½ pound butter, softened
½ cup sugar
1 egg
2 cups flour
Pinch of salt
Topping:
¼ pound butter
¼ cup brown sugar
½ cup honey
1 ½ cups sliced almonds
1 cup dried cranberries
2 tablespoons heavy cream
1. Preheat oven to 350 F.
2. Prepare crust. In an electric mixer, cream butter and sugar until light. Add egg. Mix until well blended. On low speed, add flour and salt. Mix just until blended. Press dough into a 13 x 9" baking dish that has been sprayed with non-stick cooking spray.Prick dough with a fork.
3. Bake crust 10 to 15 minutes, or until lightly browned. Remove from the oven.
4. Prepare topping. In a medium saucepan on medium heat, combine butter, brown sugar and honey. Stir often until butter melts, sugar dissolves and mixture comes to a boil. Remove from the heat. Stir in heavy cream, almonds and dried cranberries. Spread mixture evenly on top of crust.
5. Bake 10 to 15 minutes or until top begins to bubble and brown.
6. Remove from the oven. Cool completely before cutting into squares or triangles.
Makes about 40 cookies.