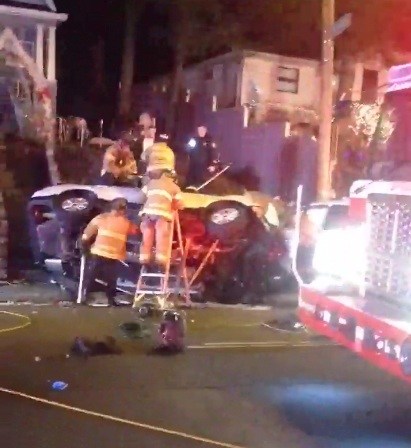 WATERBURY, CT (WFSB) -
Waterbury police said a vehicle stolen from Shelton earlier this week was involved in a crash in their city Saturday night.
The accident occurred shortly after 5:30 p.m. on Cooke Street near Greenwood Avenue.
According to police, the stolen car a 2015 Subaru Outback, was traveling along Cooke Street when it crossed the center line and hit an on-coming GMC SUV. That vehicle was then rear ended by a Toyota SUV that was traveling behind it.
The impact of the crash flipped the Outback on to its side.
The driver and front seat passenger had to be extricated from the Outback. Two rear seat passengers were able to exit the vehicle themselves, police said.
All four of the passengers in the Outback were taken to area hospitals for treatment.
The occupants of both SUV's had to also be taken to the hospital, police said one of the occupants of the Toyota suffered serious injuries and was flown by Life Star helicopter to Yale New Haven Hospital where they are listed in critical but stable condition.
Police said the accident remains under investigation and charges in connection with the stolen vehicle are pending.
Copyright 2015 WFSB (Meredith Corporation). All rights reserved.