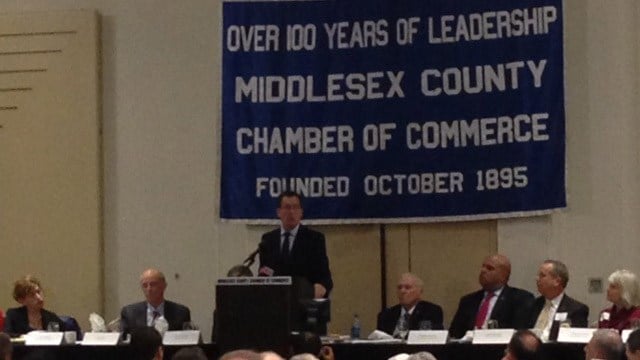 Gov. Dannel Malloy at the Middlesex County Chamber of Commerce. (WFSB photo)
CROMWELL, CT (WFSB) -
A transportation amendment favored by the governor may have died last week in the state legislature but it's getting new life this week.
Gov. Dannel Malloy unveiled his plan to revive the "lockbox" amendment in front of a crowd of business leaders at the Middlesex Chamber of Commerce in Cromwell on Tuesday.
He said the amendment would keep funds for transportation "locked" so that legislatures and future governors won't be able to tap into it when facing a budget hole.
Malloy said it would be vital because voters expect money geared toward transportation to be spent on roads, rails and bridges.
If he gets enough support from lawmakers, the amendment would go in front of voters on the 2016 ballot.
Republicans have been outspoken about it. They questioned the strength of language in the plan.
"The reality is that it was very tight," Malloy said. "You could not take dollars out of the account, paid into the account for anything but transportation. That's pretty straight forward."
According to a spokesman for Malloy, in the last session the same transportation fund was tapped to pay for a small portion of the budget deficit.
Malloy said the new amendment will have slightly different wording than the last one and will be introduced during the next legislative session.
Copyright 2015 WFSB (Meredith Corporation). All rights reserved.