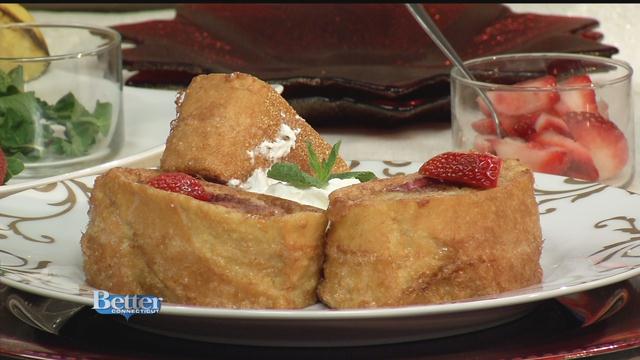 Michelle Lebel and her son Aaron from The Corner Restaurant in Milford join us to make this delicious breakfast recipe you'll want to make day and night!
Strawberry And Banana Stuffed French Toast
TOTAL TIME: 30 minutes
Prep:10 min
Cook:20 min
YIELD:8 servings
LEVEL:Easy
INGREDIENTS
1 lb of fresh strawberries
8 ripe bananas
10 eggs
1 cup milk
1 teaspoon ground cinnamon
2 tbsp sugar
1/4 teaspoon ground nutmeg
1 large orange, zested
2 loaves French bread
1 1/2 cups canola oil
Pure maple syrup
Whipped cream, for garnish
Fresh mint leaves, for garnish
DIRECTIONS:
Slice the strawberries and bananas about the size of a quarter. Heat 3 tbsp of canola oil in saute pan. Add the fruit and 2 tbsp of sugar. Saute gently for about 1 minute.
In a separate medium bowl, beat the eggs. Then add the milk, cinnamon, sugar, nutmeg and orange zest.
Slice the loaves of bread lengthwise (do not cut all the way through, the loaf should open like a book). Pull out a little bit of the "fluffy" bread inside along the whole loaf. This will make more room for the filling.
Spoon half of the strawberry and banana filling into each loaf of bread.
Cut off and discard the ends of the bread. Use a serrated knife to slice the stuffed loaves into 1 1/2-inch slices.
In a frying pan, heat the oil until sizzling. Dunk the stuffed slices into the egg mixture and pan fry. Flip the slices over when they are golden brown. When both sides are done, remove the French toast from the pan and set on a paper towel to absorb excess oil for a few seconds.
Plate your French toast. Drizzle with maple syrup. Garnish with whipped cream and fresh mint.