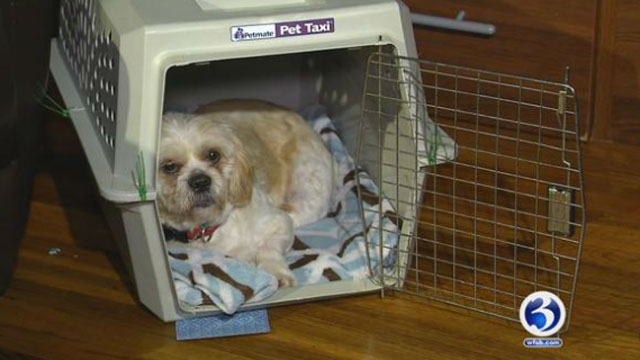 Mason is need of surgery after being hit by a car in Waterbury. (WFSB)
WATERBURY, CT (WFSB) -
A small dog in Waterbury injured over the weekend after being struck by a car is need of some financial help.
Mason is a 4-year-old Shih Tzu suffered broken legs and possibly damage to his pelvis after being hit on Friday afternoon.
A surgery is planned for Wednesday morning to help Mason. However, the family is in need of $500 by 10 a.m. to help the animal.
Mason wandered out of her home while his owner was at work and had been hit by a car. On Friday afternoon, Good Samaritans heard the cries of the animal and came to his rescue.
Mason was taken to the Connecticut Veterinarian Hospital Center in West Hartford where he is waiting for the surgery, which costs $5,000 overall.
So, far the dog's family has raised more than $870 for the surgery.
Veterinarians can't move forward with his surgery until it's paid for in full and the Medina family doesn't have the funds. Liliana Medina, who is Mason's owner, will be forced to give up her rights to the dog and sign him over to a local humane society.
Anyone interested in donating can call, the Connecticut Veterinarian Hospital Center at 860-233-8564, just use Mason's file number, which is 40216.
Copyright 2015 WFSB (Meredith Corporation). All rights reserved.