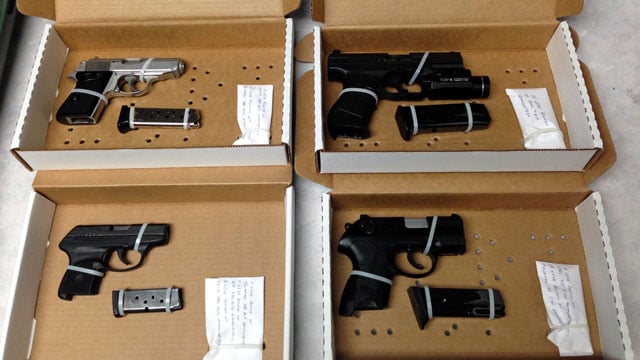 The guns recovered from the search of a home on Regent Street in Manchester. (Police photo)
MANCHESTER, CT (WFSB) -
Four people were arrested in Manchester as part of a weapons theft investigation.
Police said Christon Jackson, 25, Cryshawn Jackson, 23, Rahnda Charles, 20, and 19-year-old Kemo Teal face assorted firearms and drug charges.
Members of the Hartford Multi-Jurisdictional Shooting Taskforce and East Central Narcotics Unit served a warrant at 66 Regent St. on Dec. 23. The warrant was in connection with a burglary that took place several days earlier on North Main Street. Police said a handgun was stolen.
In all, four handguns were recovered from the home, according to police. Two of them were reported stolen from other burglaries in Manchester and Hebron.
The suspects were held on bond and presented in court on Dec. 24.
Copyright 2015 WFSB (Meredith Corporation). All rights reserved.