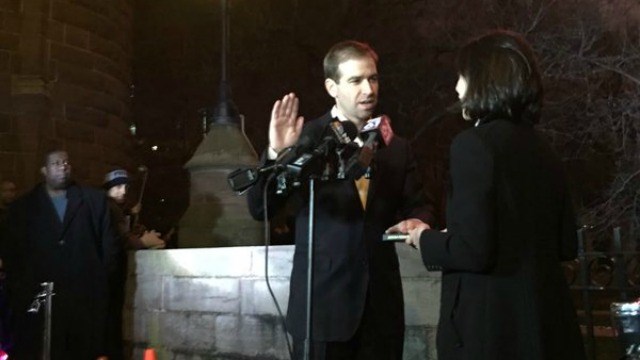 Luke Bronin was sworn in on Friday as the new mayor of Hartford. (@MayorBronin)
HARTFORD, CT (WFSB/AP) -
The baton has officially been passed to Luke Bronin in capital city as he was sworn in as the mayor of Hartford on New Years Day.
He was sworn in at Bushnell Park right after the stroke of midnigh at Hartford's 27th Annual First Night event.
He was sworn in as the fireworks were still lighting up the night sky.
Bronin takes over after making headlines for turning down a $20,000 raise that had been built into the city budget. Bronin says Hartford's massive budget shortfall makes it the wrong time to get a raise. He currently makes a salary just more than $147,000.
Bronin, a Democrat, defeated incumbent Mayor Pedro Segarra in September's Democratic primary. He later defeated a Republican and two petitioning candidates in November's general election.
Bronin on Thursday announced some key members of his new administration, including Reginald Freeman as the city's new fire chief. Freeman currently serves as fire chief for Lockheed Martin in Fort Worth, Texas. He was previously Hartford's assistant fire chief and deputy director of emergency management.
Bronin also named a new budget director and legal counsel.
Copyright 2016 WFSB (Meredith Corporation). All rights reserved.