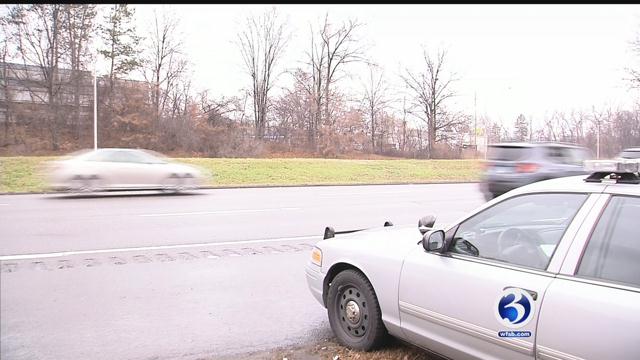 CT State Police to ramp up patrols on Wednesday. (WFSB)
SOUTHBURY, CT (WFSB) -
Connecticut State Police Troopers were conducting a DUI checkpoint Saturday night when a vehicle attempting to evade the check struck a cruiser.
Officers were set up along the Interstate 84 westbound exit 18 off-ramp in Southbury around 9 p.m. Saturday performing spot checks.
Police said a vehicle observed the checkpoint and proceeded to back down the off-ramp striking a parked, unoccupied State Police cruiser in the process. The driver then fled the scene into Waterbury.
The vehicle is described as a 4-door silver newer model Infinity sedan with Connecticut registration plates that contain the letters "AA". The car will have passenger side damage possibly from the front to the rear of the vehicle, police said.
The cruiser received moderate damage in the crash, but was able to be driven from the scene. Police said none of the Troopers were injured.
Anyone with information is urged to call Troop A at 203-267-2200 or text their tip TIP711 to 236748.
Copyright 2016 WFSB (Meredith Corporation). All rights reserved.