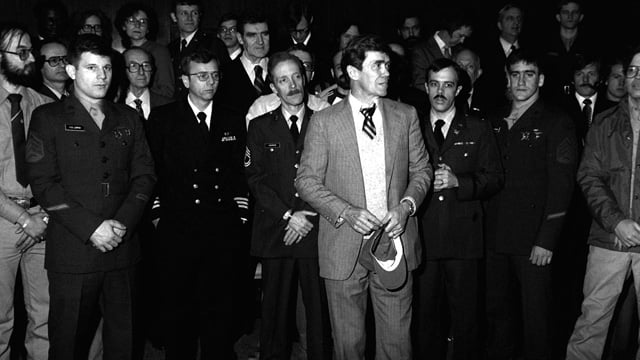 A group photograph of the Iran hostage crisis former hostages in the hospital. (Wikicommons/Wiesbaden Air Base photo)
HARTFORD, CT (WFSB) -
There will be compensation for the 53 Americans held captive in Iran.
A bill led by Sen. Richard Blumenthal will provide $10,000 for each of the 444 days they were in captivity.
The Iran Hostage Crisis was more than 36 years ago, but for the people involved, the memories still haunt them.
Moorehead Kennedy, now 85, was one of them.
He said he was a counselor to the ambassador when he was taken. He remembers a night when they thought they were going to be executed.
"[We had] steel handcuffs, blankets over our heads, in a van and we drove off into the night," Kennedy said. "We drove and drove and I ran out of prayers."
Kennedy said it turned out, they simply were being transferred to another location.
He said there are 37 hostages who are still alive.
Some of the money will come from the U.S. Treasury as well as fees collected from companies that violate U.S. sanctions against Iran.
Copyright 2016 WFSB (Meredith Corporation). All rights reserved.