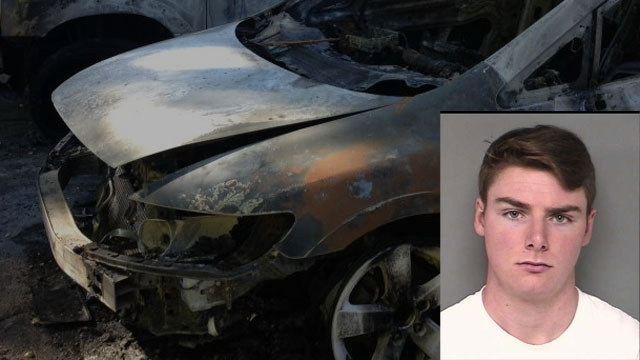 David Kuhn arrested for arson at Carriage House apartment complex. (WFSB/CT State Police)
STORRS, CT (WFSB) -
A 29-year-old man was charged with arson after a motor vehicle fire at an apartment complex just off the University of Connecticut campus.
David Kuhn was arrested in connection with three vehicle fires at the Carriage House apartment complex in Storrs during the early morning hours of Oct. 11, 2015.
When firefighters arrived at 5 Carriage House Rd., they "quickly controlled and extinguished the fire," police said. The investigation revealed that the fires were ruled arson.
After determining that Kuhn and Logan Rama were the first suspects in the arson case, Kuhn was arrested on Tuesday. Police said they plan to make at least one more arrest in the case.
Besides first-degree arson, Kuhn was charged with first-degree criminal mischief, tampering with a motor vehicle, first-degree reckless endangerment and first-degree conspiracy to commit arson.
Kuhn was held on $ 500,000. He is expected to be arraigned at Rockville Superior Court on Tuesday.
Anyone with any information about the arson is asked to call state police at 860-896-3200. All calls will be kept confidential.
Copyright 2016 WFSB (Meredith Corporation). All rights reserved.