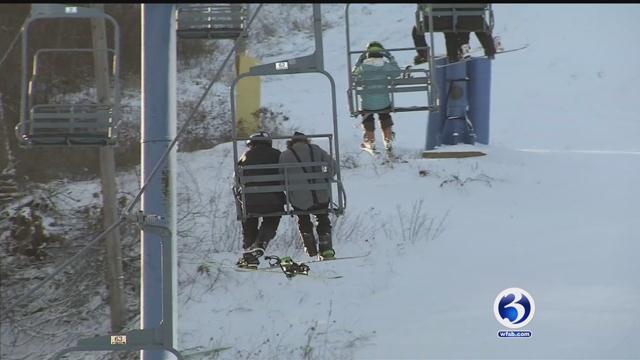 (WFSB)
SOUTHINGTON, CT (WFSB) -
As preparations on Mount Southington for another ski season began on Monday, the mountain was put to good use by a number of area ski teams on Tuesday.
Eyewitness News was on hand to get a look some of the first practice runs of the year on Tuesday afternoon.

High school skiers around Connecticut were stuck with a couple of extra weeks of dry-land exercises. The warm temps put a big crimp in their good times.

"Yes it's definitely been a long wait for the snow and now it's here," Amanda Dobbin, who is a senior at New Canaan High School, said. "I'm just ready to go and ready to win."

This practice session will last a couple of hours. The course was still being prepared on Tuesday,so no gates were going to be up. It's just free style skiing to get comfortable and acclimated to the conditions.

"I think Southington has done a great job. When I drove up today, I was pleasantly surprised to see how significant the snow cover is," Brunswick School ski team head Coach Alex Blum said. "We are going to have a great training day today."
Another problem with the warm weather is that it has compacted the competition schedule. Many of these programs will race next week and that doesn't give them a lot of time to get race ready.
"Yeah, I think I'm going to enjoy it more now because like you said the season is going to be so short," Dobbin said. "The team is going to have to come together and work together to achieve all our goals."
The competitors will have five weeks of regular season racing before the state tournament begins.
Copyright 2016 WFSB (Meredith Corporation). All rights reserved.