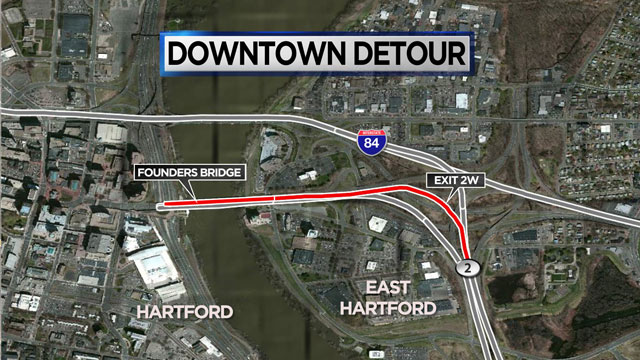 The Route 2W ramp to the Founders bridge will be closed through November 2016 (WFSB)
EAST HARTFORD, CT (WFSB) -
Drivers who commute to Hartford on Route 2 will need some extra time getting around, due to an exit ramp that will be closed for the rest of the year.
That's not a typo.
Starting January 18th, the exit ramp to the Founders Bridge will be closed at least through November so workers can make structural repairs to the ramp.
Thousands of drivers use the ramp every day to commute into the city.
To get around the closure, CTDOT has set up a detour. Drivers traveling on Route 2 West will need to take Exit 3 to Pitkin St. From there, make a left onto Pitkin, and then turn right on Darlin Street. Finally, turn onto the Route 2 West ramp towards downtown and merge onto the Founders Bridge.
Traffic lights have been reprogrammed to accommodate the additional traffic on Pitkin St. East Hartford police will also be on hand observing traffic.