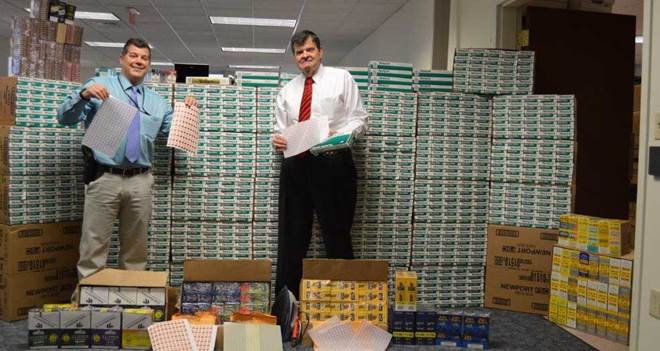 Agents from the Department of Revenue Services (DRS) and New Britain police made a major tobacco tax bust in New Britain on Wednesday. (CT Department of Revenue Services)
NEW BRITAIN, CT (WFSB) -
Agents from the Department of Revenue Services (DRS) and New Britain police made a major tobacco tax bust in New Britain on Wednesday.
Police seized more than $700,000 worth of contraband and counterfeit tax stamps from a home in New Britain, according to the Commissioner of Revenue Services.
They recovered more than 1,100 cartons of untaxed and fraudulently stamped cigarettes, over 67,000 fraudulent cigarette tax stamps, and numerous untaxed tobacco products.
Maximiliano Reyes-Cadena, 43, and Epifanio Razon-Almonte, 57, were arrested on various charges related to the alleged trafficking of fraudulently stamped cigarettes and untaxed tobacco products.
The suspects were later released and are scheduled to appear in court on January 20th.