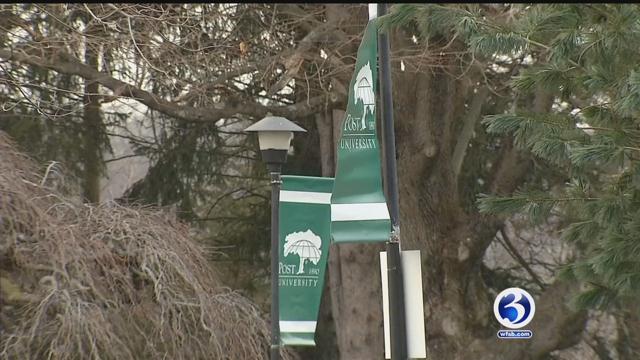 Post University in Waterbury is eliminating full-time positions. (WFSB)
WATERBURY, CT (WFSB) -
Officials at Post University in Waterbury said their school is eliminating 15 full-time positions after completing an "organizational realignment."
There are 520 full-time and 640 part-time employees, who work at Post. The school said 15 employees will be "reassigned" to part-time positions within the University.
"The steps taken this week although difficult, are consistent with our mission, vision and commitment to making Waterbury a better place to live, work and get a great education," Post University President Donald W. Mroz said in a statement on Friday.
Two university employees, who lost their jobs and wished to not be identified, said the cuts will greatly hinder the school's impact. Employees said there is now not a single full time educator in the math department on campus for example.
A school spokesman said that is only a temporary situation and the school does not offer a math degree.
Post officials said they have been "proactive in anticipating enrollment conditions and creating a sustainable balance between revenue and expenses."
"Our focus remains on the student, both online and on campus. We are very proud of everything we've brought, and will continue to bring, to the greater Waterbury area," Mroz said.
Copyright 2016 WFSB (Meredith Corporation). All rights reserved.