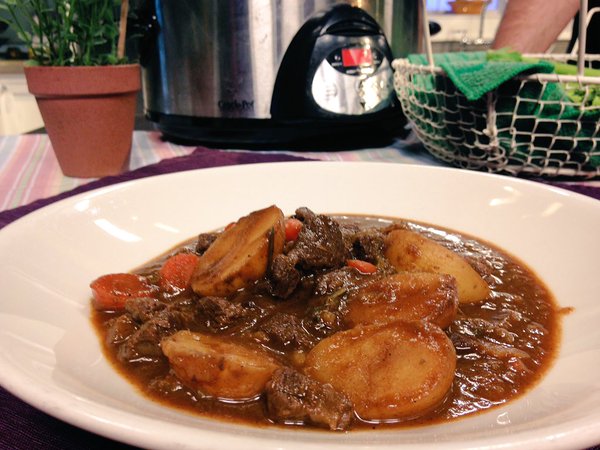 ROCKY HILL, CT (WFSB) -
Chef Plum is back in the WFSB kitchen and sharing one of his favorite cold weather recipes for slow-cooker beef stew.
Ingredients:
2 pounds beef stew meat, cut a little smaller, they will break down

1/4 cup all-purpose flour

1 clove garlic, minced

1 bay leaf

1 teaspoon chili powder

2 teaspoons Worcestershire sauce

1 onion, chopped

1 1/2 cups beef broth

1/2 cup red wine

3 potatoes, diced

4 carrots, sliced

3 stalks celery diced

1 tablespoons tomato paste
Place meat in slow cooker. In a small bowl mix together the flour, salt, and pepper; pour over meat, and stir to coat meat with flour mixture. Stir in the garlic, bay leaf, chili powder, Worcestershire sauce, red wine,tomato paste, onion, beef broth, potatoes, carrots, and celery.
Let it roll on high for 4-6 hours, (low for about 9-10 hours) until the beef is nice and tender. Serve with a nice, crusty bread.
Copyright 2016 WFSB (Meredith Corporation). All rights reserved.