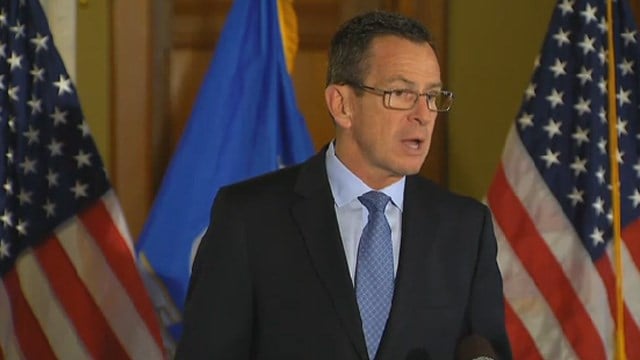 Gov. Dannel Malloy says he'll sign an executive order to ban gun permits to people on terror watch lists. (WFSB photo)
HARTFORD, CT (WFSB) -
Connecticut Governor Dannel Malloy will be seated in the guest box of First Lady Michelle Obama as President Barack Obama makes his final State of the Union address Tuesday.
Malloy will be one of 23 guests who will be sharing the box with Mrs. Obama, Dr. Jill Biden and the President's Senior Advisor Valerie Jarrett.
Those seated in box will represent the progress President Obama hopes to highlight during his speech, including gun control, criminal justice reform, paid sick leave and raising the minimum wage.
Additionally, one seat will be left vacant in the box to represent victims of gun violence, a topic that has been in the forefront for the President this past week.
Several families who have lost loved ones to gun violence will also be in attendance on Tuesday, including Mark Barden, whose son Daniel was killed in the shooting at Sandy Hook Elementary School.
The State of the Union Address will be carried live on WFSB Channel 3 Tuesday starting at 9 p.m.
Copyright 2016 WFSB (Meredith Corporation). All rights reserved.