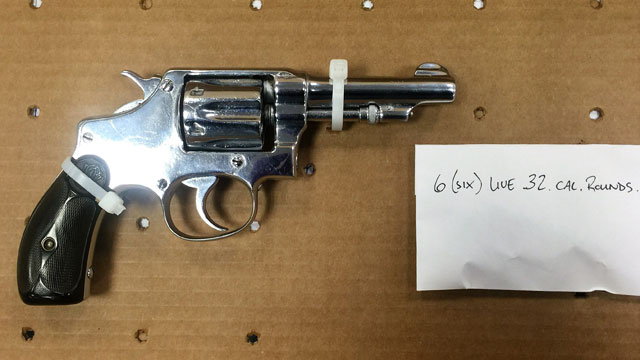 A Smith & Wesson .32 Long CTG was one of the weapons seized by police. (Hartford Police Department)
HARTFORD, CT (WFSB) -
Two firearms were seized and two men were arrested after police said they fired a shot out of the roof of a car in Hartford this weekend.
ShotSpotter alerted police that one shot was fired in the area of 68 School St. around 9:15 p.m. Upon arrival, officers said they located several eyewitnesses and helped investigators determine a motor vehicle involved in the shooting.
Officers located the vehicle in the area of 25 Colonial St. Police placed two people in the vehicle under arrest while a third person fled the scene. Police said officers were unable to locate that person.
Police said 18-year-old Joel Sanchez and 18-year-old Edgar Garcia, both of New Britain, "admitted to firing a shot out of the sunroof of the vehicle."
Officers seized a Smith & Wesson .32 Long CTG, .32 caliber revolver, which had six live rounds of ammunition, and a Ruger LCP .380 caliber pistol with one chambered round and magazine containing three rounds of ammunition. The serial number on the Ruger was also obliterated, police said.
Sanchez and Garcia were both charged with weapon in motor vehicle, having obliterated serial number on a firearm and third-degree criminal trespass. Sanchez was charged with carrying a pistol without a permit, unlawful discharge of a firearm, operating under suspension license, misuse of plates and first-degree reckless endangerment.
Copyright 2016 WFSB (Meredith Corporation). All rights reserved.