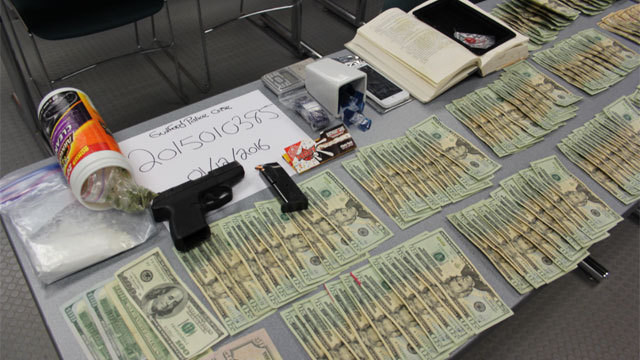 The following items were seized from a home on Pinebrook Circle. (Guilford Police Department)
GUILFORD, CT (WFSB) -
Cocaine, marijuana and weapons were seized from a home in Guilford on Tuesday morning.
Police arrested 19-year-old Michael Murawski after an investigation into the sale of narcotics in town.
The investigation, which lasted "several months," into the sale led them to 48 Pinebrook Cir. Around 7:30 a.m. While executing a search and seizure warrant, police seized cocaine, marijuana, packaging materials, money and a loaded 9mm handgun.
Murawski was charged with criminal possession of a firearm, risk of injury to a minor,
improper storage of a loaded firearm, operation of a drug factory, possession of a controlled substance more than ½ ounce, possession of a controlled substance less than ½ ounce as well as two counts of possession of a controlled substance with intent to sell.
Murawski is being held on a $50,000 bond. He is expected to face a judge at New Haven Superior Court on Wednesday.
Copyright 2016 WFSB (Meredith Corporation). All rights reserved.