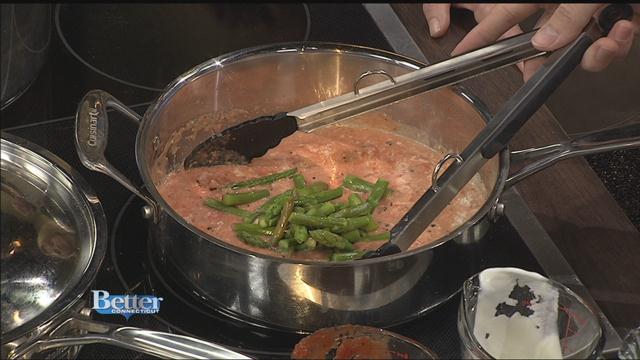 The DiFiore Ravioli Shop has locations in Hartford and Rocky Hill. To make this romantic pasta dish, all you have to do is pick up the already made raviolis from DiFiore's. Then follow this easy vodka sauce recipe!
Check out the DiFiore Ravioli Shop near you.
Traditional Vodka Sauce:
¼ c finely chopped onion
¼ c tbsp butter
1 tbsp finely chopped fresh sage
½ c heavy cream
¼ c grated romano
1 ½ c crushed tomatoes
2 tbsp vodka
2 tbsp white wine
salt and pepper to taste
Begin sauteeing the onions and sage in butter, stirring occasionally.
Meanwhile in a separate pot of salted boiling water, begin cooking the ravioli for five to seven minutes.
Once the onions are soft, add the white wine and vodka, reduce by half. Add the cream and tomatoes and cook until boiling, then remove from heat and stir in grated cheese.
Strain the ravioli and add them into the sauce pot and evenly cover all ravioli with sauce. Plate the ravioli and top with freshly grated cheese.