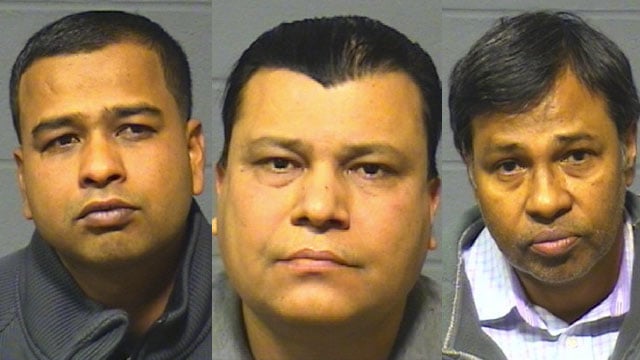 Ahmed Mustak, Mohammed Ahmed, Shaheen Mohammed. (Hartford police photo)
HARTFORD, CT (WFSB) -
Detectives busted two gas stations in Hartford for counterfeit clothing, synthetic marijuana and bath salts, among other things.
They said they executed two search and seizure warrants on Wednesday at stations located at 1510 Albany Ave. and 10 White Street.
Shiraj Mohommed, Ahmed Mustak and Mohammed Shaheen, all employees of the stores, were arrested.
During the search, detectives said they found several pieces of counterfeit clothing, a large amount of synthetic marijuana, bath salts and untaxed cigarettes.
In all, they seized 663 counterfeit knitted winter hats, 1,022 grams of bath salts, 37 synthetic marijuana packs, $28,187 in U.S. currency and a large amount of untax cigarettes.
The suspects face various charges ranging from hallucinogenic with intent to sell to counterfeit labels.
Police said they boarded up and closed the stores. However, one of them was burglarized after the fact. They are investigating it.
Copyright 2016 WFSB (Meredith Corporation). All rights reserved.?